Teak Furniture
Teak furniture in stock & ready to deliver
We have most of the furniture in stock and can deliver directly. We have many teak tables in stock – about 250-350 – in about every size and model you can imagine. Moreover we have teak chairs, sideboards and cupboards in stock. If the furniture you want is not in stock at the moment, we can usually deliver the furniture in the standard sizes very fast. It doesn't happen very often that you have to wait about 4 months for a standard size item to be delivered.
Recycled teak furniture
This teak furniture still has its original character in the solid teak planks. This means that the planks have not been chafed into one colour only. The furniture has a weathered and robust look. The furniture which is made of reclaimed teak wood cannot all be found online; there are plenty of other unique pieces which we cannot deliver anymore. Our stock of these pieces is highly variable. Moreover, we have most furniture in different versions. Some furniture has been brushed to give it a rough and weathered look.
Smooth tabletops, still recycled, reclaimed teak
Tabletops which are smooth sanded do not necessarily have to be made of plantation teak. 80-90% of our furniture is made of old recycled teak. The light coloured teak is often even and chafed in one colour, which is what makes the difference. This means that you can choose from different designs, such as brushed teak.
Picking up and delivery of the furniture
As you may have already read under "contact", we are based in Nuth, South Limburg in The Netherlands. We are a family business and unfortunately it is not possible for us to tour the whole Netherlands and Europe to deliver the furniture to our costumers' homes. Most of the furniture is picked up directly at our shop. Some friends or family can always be found for help with the transport. If it should really not be possible to pick up the furniture personally, the delivery of the furniture can be taken care of in return for a fee. On sourenmeubels.nl you can find teak furniture which we can deliver, however, this is not to say, that we always have everything in stock. If you would like to come by for a particular piece of furniture in a particular size or design, please contact us beforehand!
Countries we have delivered in recent years:
Europe:
Holland
Belgium
Luxembourg
Germany
Austria
France
Spain
Switzerland
Italy
Czech Republic
Ireland
Denmark
Finland
Africa:
North - America:
Russia: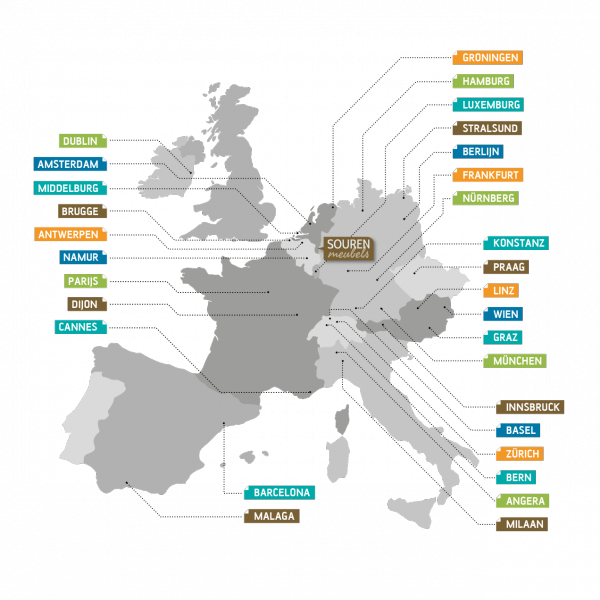 See our article about delivery for more information.
Video with our teak furniture