Teak garden benches
Teak garden benches
Teak furniture is undoubtedly the best for your home or yard owing to its weather resistant and long lasting qualities. Every one loves to enjoy great weather with a cup of coffee after a long day of work. Your teak furniture is ideal to be placed outdoor and can resist any kind of weather atrocities, heavy downpours and scorching sun as well without any degradation in its elegance, in fact teak furniture gets even more elegant with passage of time. If you are looking for outdoor teak furniture then elegant teak benches and quality teak tables are ideal to suit your maintenance free furniture needs.
The finest collection teak garden benches
In the spring we always have enough different teak garden benches in several designs and sizes in stock. Are you searching for a 2 person bench or a bench that accommodates your whole family? No problem!
Strong construction – maintenance
It's important to know that our teak benches all have mortise and tenon joints. Moreover the benches are made of high quality teak. Thanks to this combination the benches can stay outside throughout the whole year. We advise you to clean them once or twice a year with a mix of soda and green soap. Take a bucket of warm water and mix it with half a bag of soda and possibly also soda. Clean the bench thoroughly with a hard sponge. Leave the soap on the wood for about 5-10 minutes and then rinse it off with water. Your bench will be as good as new!
Different options for your garden
Below you will find various teak garden benches. You can choose from the garden benches Beaufort, Stationsbank, Luytjensbank and Sandaran. There are more benches available in our store than are displayed online. These are however unique pieces. When you come to our store you will find a much broader choice! We kindly ask you to always contact us before you come to our store for a specific piece and size.
Wonder wood teak
It is no surprise to call teak a wonder wood. Teak possesses natural properties that make it extremely resistant to any kind of damage resulting from rain, snow or any other natural source. Also teak furniture possesses a great resistance towards splintering and any kind of breakage. These are all the properties that made it one of the most suitable materials to be used for designing a range of maintenance free outdoor furnishing.
Texture and shine
Teak furniture is the furniture for lifetime, and retains its shine even after years of use. It's really easy to maintain and keep it clean. Quality teak tables and benches can easily withstand weather changes and maintain their shine. Moreover, with time teak furniture changes its texture from golden to shiny silver imparting it an even better looks.
Easy maintenance
The greatest benefit of teak furniture is that it is maintenance free and doesn't need any special care to protect it from weather or water. It is very easy to maintain them shining and to protect any kind of deterioration to your furniture. Even after years of usage it won't get rough or bumpy. Use your teak furniture without any fear of damage or breakage. Buy best quality outdoor teak furniture with Souren Furniture, so what are you waiting for? Go ahead select your furniture.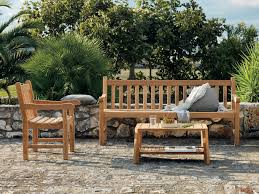 Teak Benches to Enjoy the Snowdrops
Spring is months away yet at the end of February we begin to see the first tantalising signs of its impending arrival. The days start to get noticeably milder – though not yet warmer and it is still wet – the days get longer, each evening seems to have that little bit more sunlight during the day. The best sign of the impending arrival of spring however, is on the ground. Small, interesting delicate little flowers known as snowdrops and they are very good reason for you to spend the milder, drier days in the garden. What better way to spend time before or after Sunday lunch sitting in the garden on a teak bench and enjoying what nature has to offer?
Teak for a Winter Garden
Because teak is a high-quality and sturdy wood, it is perfect for all of your outdoor furniture needs – garden tables, chairs and of course benches. Most of the park benches in England are made from hard woods such as teak (though sometimes other woods are preferred) and now you can have this level of luxury and resilience in your own garden so that you might enjoy the snowdrops and other early bloomers.
Teak is an ideal wood because it does not suffer the effects of the winter weather, it is resistant to frost, insects, mildew and fungus – though it will require the occasional wipe with soapy water to remove any debris or grit that might accumulate and damage the surface – though this is purely for aesthetic purposes and will not upset the quality of your teak furniture.
Our Teak Benches
Souren Furniture has a wide range of teak garden benches from cosy, ornate two-seaters up to the wider 4-seater models that are more reminiscent of typical European park benches. You can have your very own teak bench in your garden and enjoy it all year around – we supply teak in the highest quality wood and pride ourselves on the superiority of the material that we use, sourcing reclaimed teak from the most reputable sources.
The 2-seaters are ideal for those romantic winter afternoons and evenings watching the sunset. We have a station 2-seater and a 3-seater that will be ideal for most gardens. We also have a high-quality 4-seater. Each piece is hand crafted with an attractive design and built with comfort in mind. The Beaufort model also comes in a 2, 3 and 4-seater. Aesthetically these are far closer to park benches.
Our Marlboro / Luytjens model is the most aesthetically pleasing. With full slats on the arm rests, a solid back with an attractive design and an underskirt, it is considered our luxury model and is hugely popular for those looking for something a little more romantic and less every-day in their gardens.
Spring is almost here and there is no better time than now to think about getting some high-quality teak furniture for your garden – visit our showroom and take a look at our teak benches.