Round dining table | Reclaimed teak
Here you find an overview of our reclaimed teak dining tables. We have most of these in stock at any given moment. It's still good to first contact us if you want to come visit our store to buy a specific table.
100 cm round dining table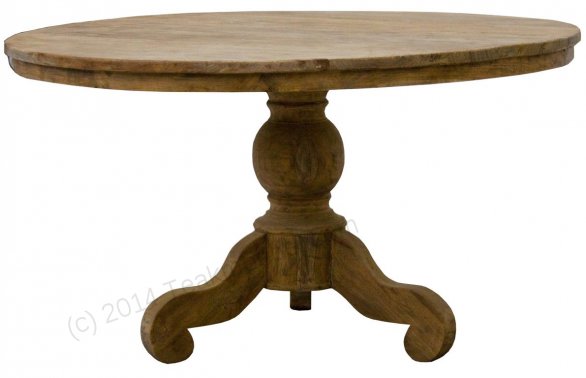 110 cm round dining table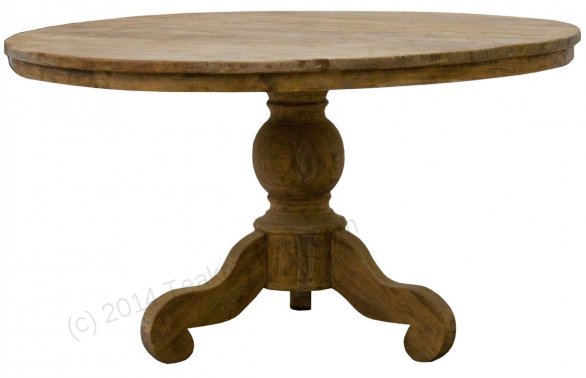 120 cm round dining table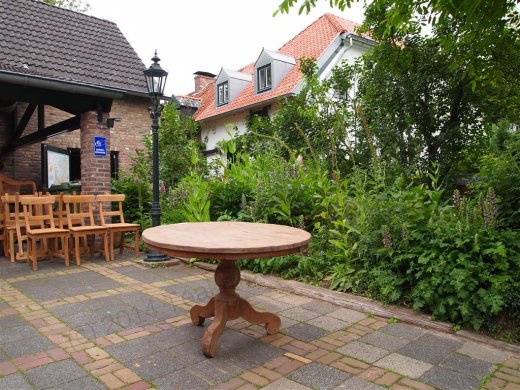 140 cm round dining table
Stock and Delivery
Weathered and robust or modern and sleek? You've got a wealth of choice when it comes to our rounded dining tables. The wood, used in production, stems from plantation teak or is recycled. These are mainly planks that come from old buildings and houses and boast exceptional quality. Java Island in [Indonesia](/indonesia), is highly dependent on their furniture export. So much that the government has built plantations to guarantee employment for the future generations.
We always have several sizes of round tables in stock, averaging from 100 cm up to 170 cm. If you're looking for a size that isn't currently in stock, let us know and we'll make sure that we deliver these to you as quickly as possible.
How many people can sit around a round table?
When space is limited, a round table is a hero for adding that extra bit of space. Round tables also create a cosy atmosphere and brings that homie feeling to a living room or kitchen. Still, it can be difficult to determine the right size for your particular living situation. There is a big difference between a round table of 120 cm or one of 140 cm. A tabletop of 120 cm has a surface of approximately 1,13 m² while a 140 cm top has a surface of 1,54 m². That's a difference of almost 36% - more than 1/3! But we won't overwhelm you with numbers. Just take a look at our table below which gives you an idea about our sizes and our recommendation for how many people fit around a particular size.
The estimations are based on the assumption that the round table has one centre leg and that the chairs have a maximum width of 45 cm, without arm-rests.
Ø 100cm round table – 3 persons
Ø 120cm round table – 4 persons
Ø 130cm round table – 4-5 persons
Ø 140cm round table – 5-6 persons
Ø 150cm round table – 6-7 persons
Ø 160cm round table – 7-8 persons
Ø 170cm round table – 8-9 persons
Naturally, these number is also determined by whether you like to cosy up to one another or prefer to have more space to yourself. Based on your preference, use either the minimum or maximum number displayed in the table. You are also welcome to come to our shop to try the table out yourself. Please contact us beforehand so that we can make sure that your preferred size is in stock at that time.
Reclaimed teak
If you're looking for recycled teak wood furniture you found the right place. For more information see our page about tables are made of reclaimed teak.
We have been selling quality furniture since 1980. Our shop is in the South East of the Netherlands and we have delivered furniture all across Europe.
Souren Furniture imports high quality dining tables from Indonesia using the finest teak so you can be assured of our professional approach and commitment to supplying best quality products to the market at reasonable prices. Quality assurance and getting good value for money are not the only considerations for customers shopping for teak dining tables though. Depending on the size of your home, you might look for a specific size and shape. Why might you prefer a round teak table over a conventional and traditional long table?
Why Choose a Round Teak Dining Table?
Round dining tables are better when you have limited space. They can be pushed into a corner when not in use and don't take up a whole length of a room when they are in use, making it easier for the hosts of dinner parties to move to and from the kitchen easily.
During a meal, diners generally do not have to excuse themselves as they lean across one another to fetch the gravy, the salt or the vegetables. Everything is in much closer proximity. After the meal, you may want to play a board game. Round tables facilitate easier access to the board and makes easier playing for all players. This casual approach to dining and to the after-dinner experience means that round tables are versatile. The greater intimacy also makes them far less formal and far more conducive to a romantic atmosphere.
Why Choose Teak?
Teak is a sturdy hard wood that requires far less care and attention than a lot of other popular wood types. It is one of the best types for your outdoor furniture, and Souren Furniture certainly has a wide range of garden furniture, but there are also a number of advantages for purchasing a teak dining table too.
If it is of the highest quality (Grade A – from the heart wood), it will be very resistant to damp due to its natural make up of high oil and low moisture content. Buffed types will have a natural waxy surface so it is less likely to stain when you drip tea or coffee over it. So long as you wipe it up quickly, it will keep its appearance. The only care you will need to worry about is the occasional oiling – this is recommended less than once a year.
Even the lowest quality teak (Grade C) is suitable for indoor furniture such as a dining table though it will require more care than higher qualities. We have decided to only go for the best quality to keep our customers happy throughout the years.